Product Examples
UV Curing for lable printing
Generally used with self-adhesive trademark printing machines, the UV curing machine is specialized equipment for drying printed trademark. It features a fast drying, cold light drying and low temperature drying.
UVLT-361 Light Curing for Screen Printing
Power supply
AC380V 3φ 50Hz 5kVA
Application
Fast UV drying to cooperate with screen printing roll to roll system.
Dimension
Lampshade: L604mm×W246mm×H330mm, the bottom casters have height of 32mm.
Control box: W500mm×W600mm×H650mm (for reference only, customizing at your desire)
Applicable dimension
Effective illumination width of 264mm.
UV System/Lamp
UV light power is between 80W to 120W, three switchable levels of radiant power with light wavelength of 300mm.
Additional quartz glass to reduce the surface temperature.
Reflecting lampshade (cover)
Aluminum extrusion reflector lampshade (combined) adopts corrugated aluminum reflective sheet and realizes 30% effectiveness than traditional lampshade.
Structure Design
Fan is placed individually, either on the printer, or the control box (additional guide rails on top for easier installation).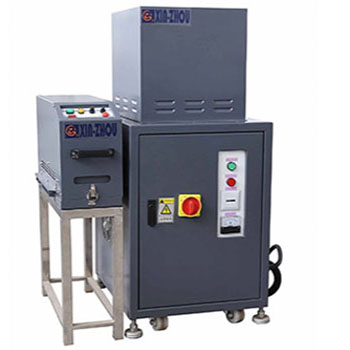 UVAP-361 Light Curing for Label Printing
| | |
| --- | --- |
| Items | Parameter |
| Power | AC380V 3φ 50/60Hz 5kVA |
| Dimension | Lampshade: L599mm×W204mm×H270mm Control Box: L730mm×W500mm×H727mm |
| Applicable size | Feeding Height: 810mm |
| Application | Used with automatic trademark printing machine for UV drying. |
| UV System /Lamp | Adopts one 3.6kW light tube with light wavelength of 300mm and switchable radiant power of 80W/cm, 100W/cm and 120W/cm. |
| | |