Product Examples
Continuous Conveyor Oven
Tunnel oven adopts horizontal continuous conveyor which loads from one side and collect from the other side with outstanding drying efficiency. This type of oven could be designed with single or multiple layers according to specific output requirements. This equipment is specially designed for precision products such as LCD, cover lens, OGS, light guide plate, film and etc., and widely used in fields like touch panel silver paste drying, film heat aging, CG(cover glass)protection ink, mirror aluminum pigment, IR blocking/absorbing ink and other curing and drying industries, as well as agricultural equipment.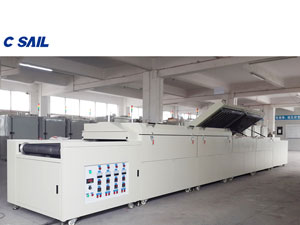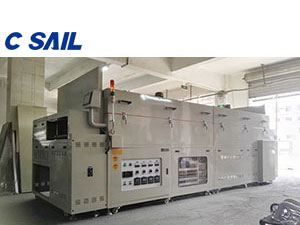 Parameters:
Power supply:
AC380V 3 φ 50Hz, approximate 84 kVA
External dimension:
W1460mm×L9400mm×H1510mm (for reference only, customizing at your desire)
Internal dimension:
W1000mm×L6000mm×H50mm
Detailed dimension:
First feeding section: 800mm+300 (thermal insulation)
Second heating section: 6000mm (divided into 4 sections for 4-level control, each section 1500mm)
Third cooling section: 1500mm (equip with thermal insulation and medium efficiency filter)
Fourth discharging section: 800mm Total length of 9.4m Heating section details:
Temperature range: Max.220℃, standard of 160℃
Air flow system:
Special air circulation design: The circulating fan is place in the bottom, and hot air is blown from the top and through the conveyor, the bottom circulating fan will collect the hot air and transport it back to the top through a side air tunnel to finish the air circulation cycle. This special air circulation design reaches higher drying quality through uniform heat spreading.
he oven bottom is added with hot air compensation device, it adopts Nichrome electric heater to realize more uniform heat spreading.
Heat uniformity: ±3% (Tested in the constant temperature heating chamber without loading)
Temperature control: Adopts touchscreen + PLC + modular temperature controller
Heating device: Adopts IR radiant heater + Nichrome electric heater
Advantages:
Supports continuous operation with high production efficiency, and reduces labor intensity.

Optional air flow system based on your own specific circumstances.
The cover of the continuous tunnel oven can be detached for cleaning and maintenance purposes.
Other than continuous mode, the tunnel oven can be operated with intermittent mode and add additional pneumatic or electric door in each section.