INDUSTRIAL OVEN APPLICATIONS
Plastic and Printing
Generally, hot air ovens and UV curing equipment are used in the plastic industry, hardware industry and printing industry. The drying equipment supplied by C SAIL is widely used for drying PCB boards, mobile phone keypads, keyboards, the cases of electric displays, trademarks, etc.
Generally, the clients in these industries have higher requirements regarding energy savings. The drying equipment supplied by C SAIL can meet this energy saving requirement in 3 aspects. First, by improving the heater, the heating efficiency is reduced while the drying effect is not affected. Secondly, a specialized heat exchanger is adopted.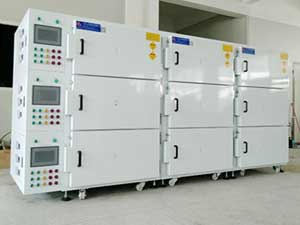 Thirdly, we redesigned the thermal insulation structure allowing for 25% energy savings.
In these industries, C SAIL has established long term relationships with world famous enterprises like Lens Technology, Chicony Electronics, BOE, TIANMA, etc. These enterprises have purchased a great number of drying equipment from C SAIL, such as our dustless tunnel furnace, dust free hot air oven, UV curing machine, etc.
Recommended Industrial Oven