Product Examples
LED UV Curing Conveyor System
By utilizing the UV emitted by the LED light source, LED UV curing system features a low temperature, fast drying and energy saving performance and long service life. LED UV curing systems are often used to dry heat sensitive products, such as electronic component code printing, cameras, and more.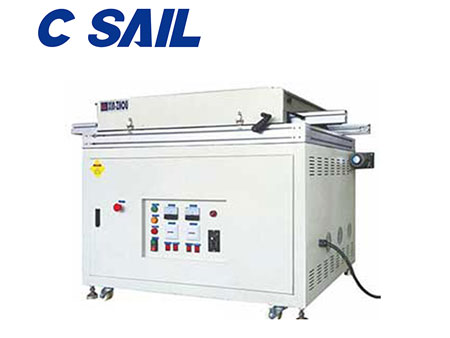 Advantages of LED UV Curing Conveyor System
Since UV LED light does not produce heat, so that the processing products will not volatilize or deform due to light heat.
Air cooling system is integrated into UV LED lamp, so that ensures long-term operation with effective temperature control to prolong the lamp lifespan and guarantee of higher-efficiency UV energy output.
The drying chamber has much lower temperature control of 28 ℃ to effectively prevent high precision parts from deformation or other chemical or physical changes.
| | |
| --- | --- |
| Items | Specification |
| Power | AC220V 1φ 50/60Hz 1.5kVA |
| Dimension | Illuminating height: 3~10mm, adjustable |
| Applicable Size | 1: Feeding part length: 400mm, UV part length: 400mm, discharging part length: 400mm 2: Total length: 1200mm, total width: 510mm, total height: 1186+50mm The height from the table of wire mesh conveyor belt is 820+50mm, the width of wire mesh conveyor belt is 300mm, the effective conveying length is ﹥130mm, effective illumination width is 300mm |
| UV System | 1: Adopts 2 sets of "UVATA"LEDUV light source 2: 800MW/cm, Sparkle Length: 300mm, illumination width: 50mm |
| Lamp | The lamp is installed on the wire mesh conveyor belt horizontally. UV room temperature: ≤28℃ Wavelength: 365nm, energy build-up: 1500-3000mJ Effective illumination area (single lamp): 300*50mm, illumination height: 3-10mm Cooling method: air cooling Dimension of Lamp Bulb (single): 300*30*100 mm Lamp Bulb weight (single): 2Kg Power: 200W Light intensity: 800MW/CM Equipped with reasonable air-cooling system to decrease the temperature. |