Constant temperature and Humidity Test Room
By creating a constant temperature and humidity environment, the temperature and humidity test chamber is designed to test a product service life of a variety of products, including electronics, electrical appliances, cellphones, communication equipment, instruments, vehicles, plastic products, metal, food, chemicals, building materials, medicine, aerospace materials and more.
Parameters
Temperature and Humidity Range:
Temperature: 25°C-70°C
Humidity: 60%- 90%RH Sensor Control Accuracy:
Temperature: +(-) 0.1 to +(-) 0.5°C
Humidity: +(-) 0.5 to +(-) 2.5%RH Sensor Analyzing Accuracy:
Temperature: 0.01°C
Humidity: 0.1% RH
Heat Up Time: From room temperature to 70°C, about 45 minutes
Cooling Time: From 70°C to 25°C, about 45 minutes Work Environment:
Power: 380V±10%, 50HZ, three-phase five wire system, 35kVA
Ambient Air Pressure: 860-1060Kpa
Ambient Humidity: <85%RH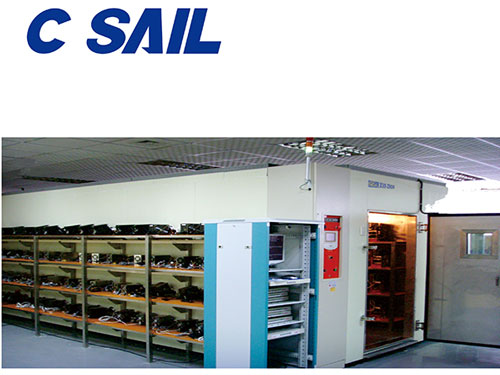 Principle
A temperature sensor is installed in the interior to collect temperature data. After this data is collected, the temperature controller will launch the heating device to increase temperature, or adjust the refrigeration solenoid valve to decrease the temperature in order to achieve the required temperature.