QCO-3F-2D Non-Oxidation Drying Oven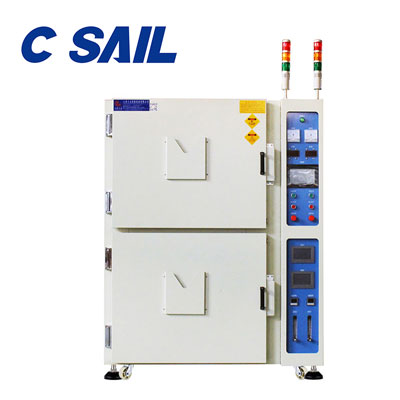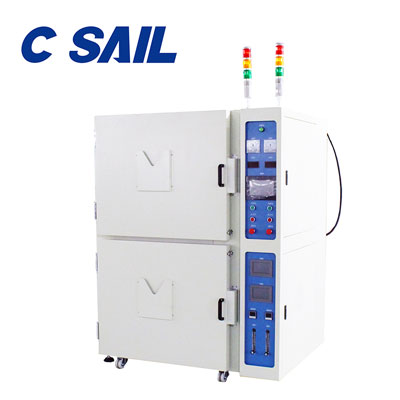 | | |
| --- | --- |
| Model | QCO-3F-2D |
| Internal Dim. W×H×D /mm | W710mm×D610mm×H560mm (Double Wall) |
| External Dim. W×D×H/mm | W1460mm×D1058mm×H1780mm |
| Power | AC380V 3φ 60Hz 15kVA |
| Temp. Range | Room Temperature~250℃ |
| Temperature. Controller | Adopts CAHO-P961 multi-step temperature controller, LED screen can be used for displaying digit and setting parameters. Automatic calculation of PID, the temperature control accuracy is ±0.3%. Signal source: Adopts world renowned brand temperature sensor. Output control component: SSR (solid-state relay) wireless signal output |
| Temperature Uniformity | 175℃, test in empty oven, the accuracy is below ±1% |
| Heat-up Time | Room Temperature~200℃ About 30 minutes needed (Test in empty oven) |
| Air Inlet | Nitrogen flow meter is adopted to control the air inlet (5~45L/M). Air inlet size: 8mm Oxygen content: ≤50PPM |
| Air Outlet | Air outlet size: 4″ Equipped with water cooling system, one side horizontal cyclic blowing. |
| Configuration | 1: Equipped with electromagnetic door holder.  |
| | 2: Equipped with the filter.  |
| | 3: Equipped with 3-color indicator: Yellow means standby, green means running, red means overheat  |
| | 4: The release of nitrogen can be controlled by the drying procedure. By this way, nitrogen waste can be avoided.  |
Principle
By adopting an air circulation system, the industrial nitrogen oven can prevent oxidation during the drying process by nitrogen circulation. The air circulation fan will blow out the heated nitrogen. Then the nitrogen will enter the inner chamber by air duct. Then the used nitrogen will be absorbed into the air duct for heat recycling to guarantee the temperature uniformity. Features
The intermittent air discharge can be set for avoiding nitrogen gas waste
Internal pressure can be displayed to ensure safety in use.
Equipped with six point temperature meter to monitor the temperature in the oven.
Adopts water circulation cooling to shorten processing time.
The inner chamber and external case of this industrial nitrogen oven is made of stainless steel material for convenience of cleaning and achieving long service life.
Highly uniform temperature distribution.