Dust-Free Industrial Tunnel Oven
This type of drying equipment is designed for precision parts drying and curing with 7 heating sections to ensure constant temperature rise, it also adopts forced convection system as well as dustproof device to guarantee outstanding hygiene after drying and curing.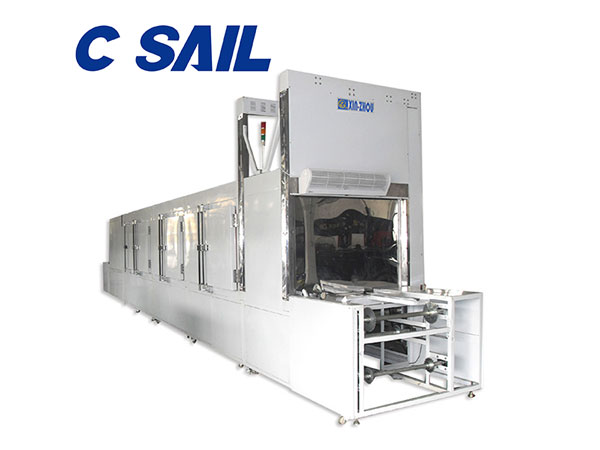 If you are interested with this type of drying equipment, we are pleased to modify any parts such as power supply, heating chamber or the forced convection system to meet your specific production requirements.
Power supply
AC380V 3φ 50Hz 90kVA
Internal dimension
W900mm×L6943mm×H850mm,
External dimension
W1380mm×L11943mm×H3000mm (for reference only, customizing at your desire)
Detailed dimension
1. Feeding zone: 1000mm, heating zone: 6943 mm (divided into 7 sections, each section has length of 1000mm and equipped with individual temperature control module.)
2. Discahrging zone: 1000mm, cooling zone:2000 mm (equip with one 1HP cooling fan, additional high-efficiency filter, and the bottom of cooling zone is equipped with 1 forced cooling exhaust fan.)
3. Conveyor width: 600 mm, feed/discharge opening height: 650 mm.
4. Conveyor altitude height: 1000 mm.
Temperature control system
1. Temperature range: room temperature+25℃~300℃, it takes approximate 45 minutes heating from room temperature to 250℃.
2. Adopts Taiwan "Weintek" 7-inch touchscreen and Taiwan "Xinjie" PLC, 4 sets of temperature control modules, digital setting cooperated with SSR output control from Taiwan, PID automatic calculation and LED display.
3. The temperature controller has accuracy within±0.5%FS; temperature uniformity ±2%, oven tested without loading.
Airflow system
1. Adopts Taiwan "Qunli" long shaft motor designated for industrial oven, and cooperated with 7 1HP multi-wing axial fans for air circulation.
2. Horizontal airflow through HEPA filter24″×36″×5-7/8″.
3. Air flow from right to left (specially designed side air duct) with filtration efficiency of 99.99%.
4. Dust-free workshop: Class100.