SCO-IR-8-4 Conveyor IR Hot Air Tunnel Oven
This is a type of continuous process oven & furnace for precision parts drying and curing, it adopts 380V power supply, sectional heating method and forced convection system. If you are interested in this type of drying equipment, we would like to make modifications according to your specific production requirement.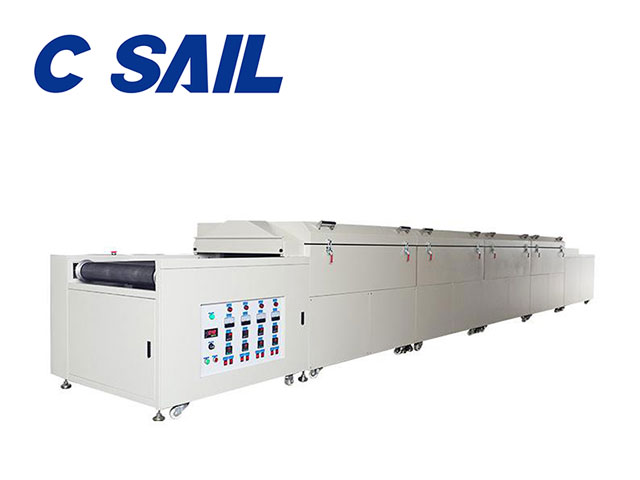 Application
Mainly applies to TP, LCD, coverlens, OGS, LGP, films and other precision parts, widely used in fields like touch panel silver paste drying, film heating aging, CG (cover glass) protection ink, mirror aluminum pigment, IR blocking/absorbing ink and other curing and drying industries.
Power supply
AC380V 3φ 50Hz 65kVA
Internal dimension
W900mm×L6000mm×H80mm,
External dimension
W1290mm×L9000mm×H1210mm(for reference only, customizing at your desire)
Detailed dimension
1. Feeding zone: 1000mm, heating zone: 6000 mm (Divided into four sections with 4 sets of temperature controller, each section has length of 1500mm), discharging zone: 1000mm.
2. Cooling zone: 1000mm (Equip with 4 4-inch cooling exhaust rotary fans.)
3.Conveyor width: 800 mm, feed/discharge opening height: 80 mm.
4. Feeding zone is added with 200 mm thickness thermal insulation cover.
5. The air inlet is added with filter.
Temperature
1. Temperature range: room temperature+25℃~200℃, it takes approximate 35 minutes heating from room temperature to 150℃.
2. Controller: adopts XZ-960S digital temperature controller, PID automatic calculation, and LED display.
3. The temperature controller has accuracy within ±1%FS; temperature uniformity±2%, oven tested without loading.