LCD Curing Oven
This is a type of large volume continuous process oven & furnace, is equipped with 380V power adopter, and adopts sectional heating method and forced convection system to save significant operating cost and higher drying and curing efficiency. If you are interested in this type of drying equipment, we are pleased to make modifications according to your specific production requirements.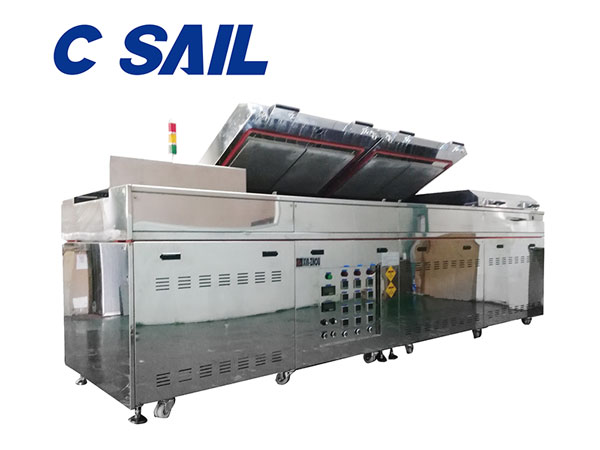 Power supply
AC380V 3φ 50Hz 15kVA
Internal dimension
W650mm×L3000mm×H50mm
External dimension
W1260mm×L4500mm×H1080mm (for reference only, customizing at your desire)
Detailed dimension
1.Feeding zone: 500mm, heating zone: 3000mm (Divided into three sections and each section has length of 1000mm)
2. Discharging zone: 500mm, Cooling zone: 500mm (Equip with 2 12-inch cooling exhaust rotary fans, and additional medium-efficiency filters.)
3. Conveyor width: 500mm, feed/discharge opening height: 50mm, conveyor altitude height: 900±50mm. The constant temperature section has tolerance of ±3℃. (The conveyor belt has 10mm distance from the edge)
Temperature
1. Temperature range: room temperature+25~220℃, it takes approximate 20 minutes heating from room temperature to 135℃.
2. Controller: adopts OMRON E5AZ digital temperature controller, PID (proportional-integral-derivative controller) automatic calculation, LCD display, SSR (solid-state relay) output control from Taiwan "FOTEK".
3. The temperature controller has accuracy within ±0.5%FS, temperature uniformity ±3℃, oven tested without loading.